Image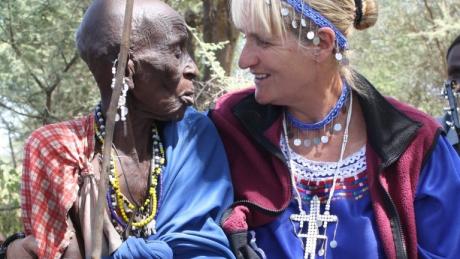 Angelika Wohlenberg sittted next to a Maasai woman.Photo credit: Angelika Wohlenberg
For four decades, Angelika Wohlenberg, affectionately known as 'Mama Maasai' - a Swahili term for Maasai Mom, has dedicated her life to living and working among the Maasai community.
In 1983, she left Germany for Tanzania during a time of economic hardship, where fuel was scarce, cars were few, and basic commodities were considered luxuries.
"I stayed and slept in my car at a gas station for three days for lack of fuel," she highlights.
"Getting commodities like a roll of toilet paper and sugar was considered a luxury because all supermarkets were empty."
Her partnership with MAF commenced in the early 1990s, when she joined the Malambo safari to access Malambo, allowing her to establish various vital projects, including schools, an orphanage, women's initiatives, and evangelistic work. Additionally, Angelika has been spearheading an agricultural project to teach the community sustainable farming practices for food security.
Image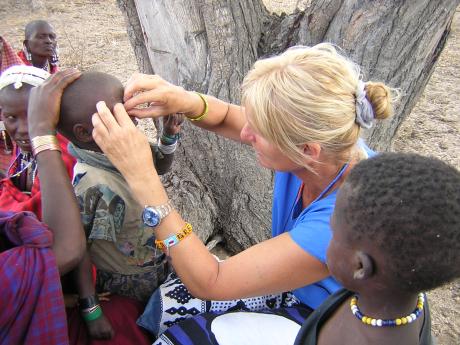 Angelika assessing a child's eye in a remote village. Photo credit: Angelika Wohlenberg.
Angelika's deep commitment to providing medical care led her to establish mobile clinics in remote villages. Beneath the shade of trees, she shielded the villagers from the scorching sun while offering much-needed medical assistance. Medicine supplies were rare in the city, prompting Angelika to travel long distances to procure them from the government and other sources.
Accompanied by a doctor from Selian Lutheran Hospital, Ngaramtoni, and a dedicated volunteer, Angelika traversed from one village to another, offering healthcare services, spreading the teachings of Jesus Christ, and promoting overall wellness. As dusk settled, they shared the Maasai people's lives by sleeping in tents among them, forging a strong bond of trust and understanding.
Angelika's compassionate efforts extended beyond healthcare. She established an orphanage, providing a nurturing environment for 32 children and granting them access to education through her schools.
Image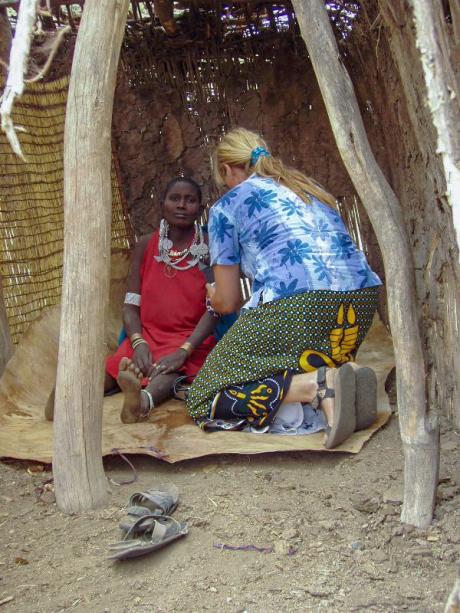 Angelika assesses a pregnant woman during a medical camp at a remote village. Photo credit: Angelika Wohlenberg
During one of her clinics, Angelika encountered a pregnant woman with twins in critical condition. While the mother successfully delivered one baby, she struggled to deliver the second, causing concern for her well-being.
In dire need of urgent medical intervention, Angelika utilized the only communication method available - a radio call.
"I made a call to the MAF Tanzania office using my radio call, which was the only mode of communication then, requesting a medical evacuation for the distressed mother," said Angelika. "Fortunately, an airstrip, renovated with the help of MAF pilots, was nearby, expediting the response."
Within minutes, the MAF plane landed, and the woman, together with her firstborn, was swiftly transported to a Christian medical centre for specialized care. Thanks to the timely intervention of the MAF plane, the second baby was safely delivered 24 hours later, bringing immense relief and gratitude to the mother.
Image
Photo credit: Angelika Wohlenberg
In appreciation for the lives saved, the mother named one of her sons after the pilot, Andy, and the other after the doctor, Samuel, forever commemorating the heroic efforts of those involved.
Angelika's unwavering dedication and selflessness have left an indelible mark on the Maasai community, embodying the spirit of compassion, and making a significant difference in the lives of those she touches. Her journey continues to inspire and uplift, showcasing the profound impact that a single individual can have on the lives of many.
Angelika's organisation, Help for the Maasai, is a frequent flyer on the Malambo Safari, flying with us 11 times during the first half of 2023. Their project is based near to the Malambo airstrip which makes MAF a crucial air link for the volunteers there. This long-lasting partnership spans nearly two decades and has enabled Help for the Maasai to provide medical care and educational opportunities for the Maasai people in the long term.
Story by: Jacqueline Mwende