Image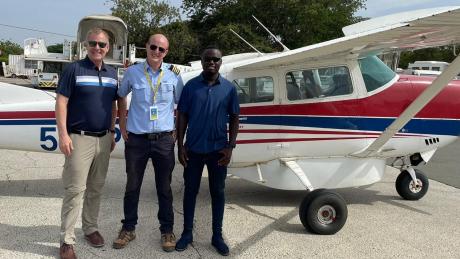 Alf Rhea (left) and Calvin Andrew (right) ready to board the Cessna 206 with MAF Pilot Peter Griffin (middle) at Kilimanjaro International Airport. - Photo by Alf.
Siha Leadership School (SLS) graduate interns received valuable support on their journey into the workplace from two mentors flown in by a MAF flight to a remote airstrip in central Tanzania.
MAF Pilot Peter Griffin flew two passengers, Calvin Andrew, and Alf Rhea of Ubora Tanzania, from Kilimanjaro International Airport to the valley airstrip of Morogoro where they were eager to visit a factory where many of their recent Christian graduates had started internships.
Calvin, a Tanzanian who holds a managerial position in the internship programme was taught and trained by Ubora Tanzania. He relates with the interns in a personal way, having walked the same training path. Alf had travelled from the US to visit the factory and to meet the interns working there.
UboraTZ is a US-based non-profit organization dedicated to achieving long-term sustainability for the people of the Siha District of Tanzania. Ubora comes alongside local religious, government and community leaders and through its partner in-country NGO, SHEFO. 
"I needed to personally visit with these five new SHEFO-sponsored interns in Morogoro on my recent trip to Tanzania," Alf said.
"However, due to time constraints and over eight hours driving each way on rough roads, I couldn't work out the details. I'm so glad a friend recommended MAF to me. Peter was a wonderful pilot and using MAF allowed us two days to visit with the interns in the remote town. Mission accomplished!"
One of the many outreach programmes UboraTZ have focused on providing education to local people. Through the internship programme for SLS graduates, UboraTZ is committed to working alongside graduates in search of suitable job opportunities to bridge the gap between schooling and work life. It was, for this reason, Alf and Calvin needed swift transport into the city of Morogoro, where they conducted meetings to tutor further and coach the interns as well as meet with the factory owners and management.
Half of their graduates could not find employment after school and had to return to Karansi without supporting themselves.
Morogoro is a lengthy 10-hour drive by road at its best in the dry season from Karansi, Siha District on the slopes of Mt. Kilimanjaro. UboraTZ has set up an internship program with a private factory, which could provide work experience and jobs for many new graduates.
"Without the help of the MAF flight, our visit would not have been possible; impactful meetings and training with the interns would simply have been out of the question to organize," Alf said.
Calvin and Alf were able to spend more than 24 hours in Morogoro and they said the internship programme had a strong foundation and were hopeful for the continuity of the partnership with the factory.
"I am happy and thankful for this position because I get to interact directly with the new graduates as they gain work experience and receive the training that will get them ready to find jobs in the difficult job market in Tanzania," said Calvin.
Written by: Paivi & Peter Griffin