Image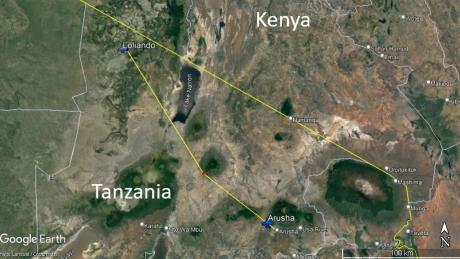 Medevac Map by Mark Liprini
A 37-year-old man from the Maasai community required urgent medical evacuation after suffering a head injury from a fatal road accident at the Kenya - Tanzania border
A 37-year-old man from the Maasai community required urgent medical evacuation after suffering a head injury from a fatal road accident at the Kenya - Tanzania border. Early in September, Emmanuel Mollel, the Operations Officer of MAF Tanzania, received a call from Dr Rita* of Wasso Hospital in Loliondo district, Northern Tanzania requesting an urgent medevac.
The patient had been involved in a fatal accident at the Kenya - Tanzania border and was rushed to Wasso Hospital which was close by for treatment. During the assessment by the doctor, she noticed the patient had a tibia-fibula fracture on his leg and was unresponsive, he could open and close his eyes from time to time with no sense of recognition of his surroundings. She raised the urgency for the patient to be airlifted to Arusha Lutheran Medical Centre (ALMC) for specialised treatment sighting possibilities of a brain injury.
Medevac Response
Emmanuel alerted Mark Liprini, the MAF Tanzania pilot about the possible medevac the following day from Wasso Hospital to ALMC. Through a partnership with Flying Medical Services (FMS), the operations officer ensures all patients requesting a medevac are accompanied by a doctor during the flight to closely monitor their situation until they get to the hospital.
Mark flew from Arusha to the airfield in Loliondo to pick up the patient who arrived 15 minutes later accompanied by a doctor from FMS. Dr Rita* was also present to supervise the loading of the patient inside the aircraft after giving the green light that he was fit to fly. The doctor from FMS brought two oxygen containers to support the patient during the flight and he placed a pulse oximeter on his finger to monitor the oxygen saturation levels in his body.
Image
Photo: Stewart Ayling
Challenges during the Flight
"My biggest challenge was flying over the high ridge surrounding Loliondo which is almost 6000 ft high with a patient who has a possible brain injury. I did not know what a decrease in pressure would do to him and so I had to weigh between climbing high above the clouds for a smoother flight and the potential damage that would have had on the patient's injury as opposed to the mild turbulence at lower levels for an hour's flight to Arusha. I kept flying low while the doctor closely monitored his oxygen saturation levels," Mark said.
He added that for safety reasons, they must route around Mount Kitumbeine which is 2865m / 9400 feet in height, due to upper air winds, which would make it very turbulent, and because of the restrictions on the aircraft performance and equipment, they cannot fly directly over it. Mt Kitumbeine along with most of the mountains in the northern part of Tanzania are extinct or dormant volcanos, hence their shapes. They are quite high, and the upper air winds that swirl around them can cause turbulent flight conditions at times.
However, by routing around them, the journey can be quite comfortable, and certainly way better than a seven-hour or an even longer journey by road. If a patient is committed to a road journey, there are very few options for medical care between Loliando and Arusha should things escalate with the patient, and should they be midway, it means they're at least 3.5 hours from either place. Whereas by air, the patient would not be more than half an hour away from medical care.
The Maasai in Tanzania
The Maasai of Tanzania mainly live in the region of Ngorongoro and Loliondo, Northern Tanzania as well as other parts of the country. They are traditionally Nomadic pastoralists, and many have settled and diversified their livelihoods.
Our challenges during Medevac
At least one in five medevac patients can manage to raise the full amount needed to pay for a flight. In most situations, when a person falls ill and needs a medevac, they will hold on requesting a flight until they can mobilize funds amongst their families and friends.
If that support fails, then families end up selling their land and livestock to raise funds to support one of their own to get medical assistance. This is also a big risk because lives might be lost in waiting for the funds to be available. It also means that many people risk giving away all their resources including the land where they live, in order to raise funds for medevac flights and medical treatment.
"Imagine having to sell land to cover medical expenses. What would happen if another emergency befell the family and there is nothing left to sell? The situation is not only in Loliondo but in many other isolated communities in Tanzania. If we got more funding, we would be able to apply greater subsidies to more flights and assist more people needing medical evacuations," Mark Liprini said.
Dr Rita* is a pseudonym
Image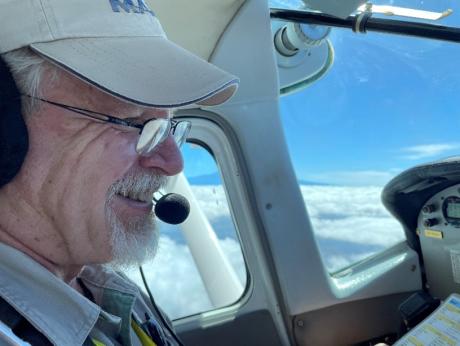 Pilot Mark Liprini