Image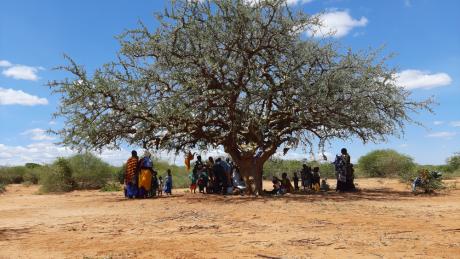 Photo: Mark Liprini
MAF pilot, Mark Liprini, shares of one important flight in Tanzania which got a child to urgent medical help, and helped Maasai evangelists spread the love of Jesus in their own land.
As the big Continental flat six engine settled into its familiar rumbling idle, I scanned the gauges while reflecting on the hard days flying behind us, and the last extremely challenging airstrip ahead.
Nothing in my 21 years of MAF service had prepared me for the intensity and challenges of service in Tanzania. The Malambo medical and evangelistic safari or shuttle is a massive help to the hard-to-access communities, who often only get medical care when the MAF C206 brings in a medical team.
Pastor Elisha, a Maasai pastor living in Malambo, has been working hand in glove with MAF for almost 40 years, steadily and methodically sending evangelists to remote communities to share the Gospel, nurturing believers and bringing young people back to Malambo to train up new generations of evangelists, training church workers, Sunday school teachers, wives and mothers and running a small Bible school in Malambo.
It is our huge privilege to be able to partner with this man of God, slowly, steadily and quietly expanding the kingdom of God in this small area of Tanzania.
Pre take-off checks almost completed, I glanced sideways to see a man anxiously signalling me to shut down the engine.
"Please, please, there is a very sick child that needs to go to the clinic at Malambo, can you please take the child, its mother and the father who is also sick."
While Eivind strapped in the small family next to the three Masai evangelists we had come to collect, I quickly redid the numbers - we had a mere 4kg to spare! That's how tightly we have to fly on these remote, short strips.
A Maasai warrior was running to the take-off end of the sloping mountain strip to chase away a herd of donkeys that were settling down to graze, while we prayed for the family, closed the doors, and started up again.  
At Olemilei you get airborne at 6000' elevation, clear the trees, cross two ridges and immediately start the quick descent down to 4000' elevation Malambo, on a 5-mile left-hand base leg.
This very short 11km flight would take a fit person the best part of hard days walking due to the rugged terrain. For a weak father, plus mother and sick child this would be a risky venture, for the evangelists, this flight means two full days more they have to minister in this remote community.
As we dipped the tanks and ran the numbers for our second-to-last departure out of Malambo we saw the small family walking slowly in the direction of the small clinic where they should get the medical care they surely needed, which was just not available in their village high up the mountain.
What a privilege to walk in the footsteps of those young WW2 combat pilots, who founded MAF over 75 years ago, who had the incredible vision to use aircraft for the kingdom of God.